PRO STAFF 97L V13 Tennis Racket Frame
The Pro Staff 97L v13 provides a lighter and more maneuverable frame for any player who craves the classic Pro Staff precision and feel, but prefers a more arm-friendly swing weight. This model comprises a new construction, Braid 45, that increases precision by arranging the carbon fibers at 45 degree angles for improved ball pocketing feel and remarkable stability through the swing. Modern design meets classic heritage with an exposed carbon fiber weave gloss finish above the 3 & 9 of the racket, a sleek black elastic base and a pair of red and yellow pinstripes along the throat for a look that marries signature Pro Staff inspiration with novel innovation.
Discover the history of the Pro Staff tennis racket here
Lighter and more maneuverable Pro Staff

Braid 45 construction arranges the double braided fibers at 45 degree angles for enhanced pocketing feel alongside incredible stability

String Mapping provides a denser string bed for excellent precision and feel

New Ergonomic End Cap yields improved comfort and playability
Modern design gives nod to classic Pro Staff heritage with black elastic base, gloss finish at the tip and red/yellow pinstripes along the throat
Comes unstrung unless you 'add strings to this racket'
No cover
Age Group : Adult
Head Size : 97 sq in - 626 sq cm
Length : 27 in - 68 cm
Series : Pro Staff
String Pattern : 16x19
Unstrung Balance : 32.5 cm / 6 Pts HL
Unstrung Weight : 290 g
ABOUT PRO STAFF
1983 MEETS MODERN. Pro Staff v13: A little bit Vintage. And a whole lot of modern. What do you get when you mix 1980's design with a 2020 vibe? You get a tennis time machine that goes back to the future: a racket inspired by the Pro staff Original 6.0, but with all the sleek performance of modern day technology.
DESIGN DNA
Wilson has created a collection of performance tennis rackets featuring designs unparalleled in vibrancy, simplicity and elegance. Designs that ignore the distractions and focus solely on the essentials. What remains are timeless, uncontaminated designs, meticulous in detail and bold in their beauty. These designs produce rackets that want to be held - and a psychological edge for the player bold enough to pick one up.
BRAID 45
Pro Staff v13's New Technology. Adds more precision to the classic feel of Pro Staff. Placed at the hoop for max precision and feel. Braided carbon is constructed at a perfect 45 degree angle
STRING MAPPING
String Mapping provides a denser string bed for excellent precision and feel.
GRAND SLAM HERITAGE
4 decades of excellence Pro Staff since 1983
117 slams won
11 women's singles titles
46 men's singles titles
60 doubles titles
At least five major titles in each of the last four decades
Played by the game's greatest player ever.
Past. Present. Pro Staff. Legendary Continues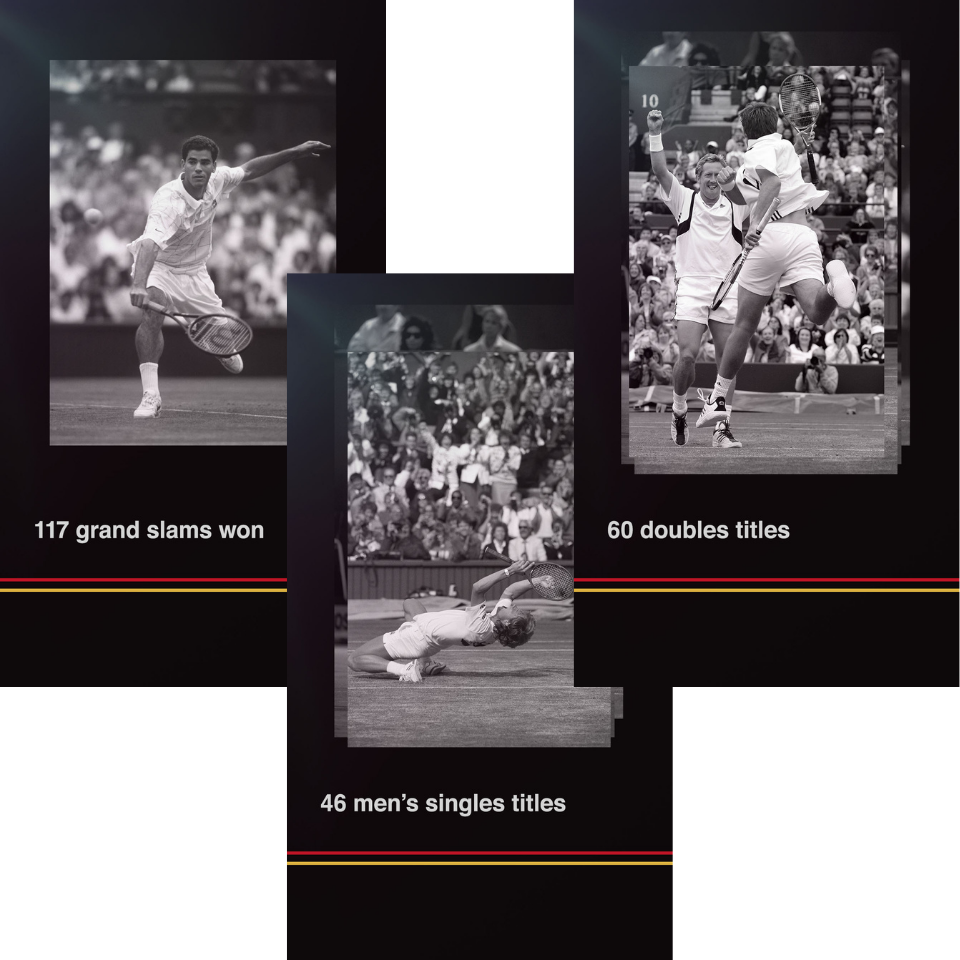 Reviews
Customer Reviews
Write a Review
Ask a Question
Stringing options
Recommendation
Choose your own
PRO STAFF 97L V13 Tennis Racket Frame
PRO STAFF 97L V13 Tennis Racket Frame
Keep your racket Protected
Generic Racket Cover
$19.95