THE HISTORY OF THE WILSON PRO STAFF TENNIS RACKET
AN EVOLUTION OF THE BRAND'S MOST ICONIC RACKET FAMILY
37 YEARS OF PRO STAFF
There's no question about it: the Pro Staff is our most iconic tennis racket franchise. Having been around for 37 years, it's best known for its classic double braid of carbon and aramid fibers (commonly known as graphite/Kevlar®), and of course the many greats who use(d) it: Chris Evert, Stefan Edberg, Jim Courier, Steffi Graf, Pete Sampras, Roger Federer. All totaled, 117 grand slam titles have been won with Pro Staff.
With the 13th version of Pro Staff launching, we felt it was only fitting to go digging into the archives to answer the question: what were the other 12 Pro Staffs like, and why do we keep making them?
LET'S ANSWER THE SECOND QUESTION FIRST.
It's safe to say that if you make something for 37 years, people must like it. And more importantly, you build a following. Pro Staff players are perhaps the most loyal when it comes to their choice of tennis racket. It's nearly impossible to convince them to play with anything else. Whether they played the original Pro Staff growing up, or they're just a huge fan of Roger Federer, you can forget putting any other racket in their hands. They can't get enough of that classic "Pro Staff feel".
BUT WHAT IS IT THAT MAKES PRO STAFF FEEL UNLIKE ANYTHING ELSE?
The answer is what's inside: a classic braid of two materials: carbon and aramid fibers. The original description of this braid, that first appeared in a 1983 Wilson catalog, still holds true:
The core of the Pro Staff is a braid of Kevlar® and graphite. This construction blends the extraordinary strength of graphite with the durability of Kevlar®, a space-age material. The result is a breathtaking power and a solid feel with every shot.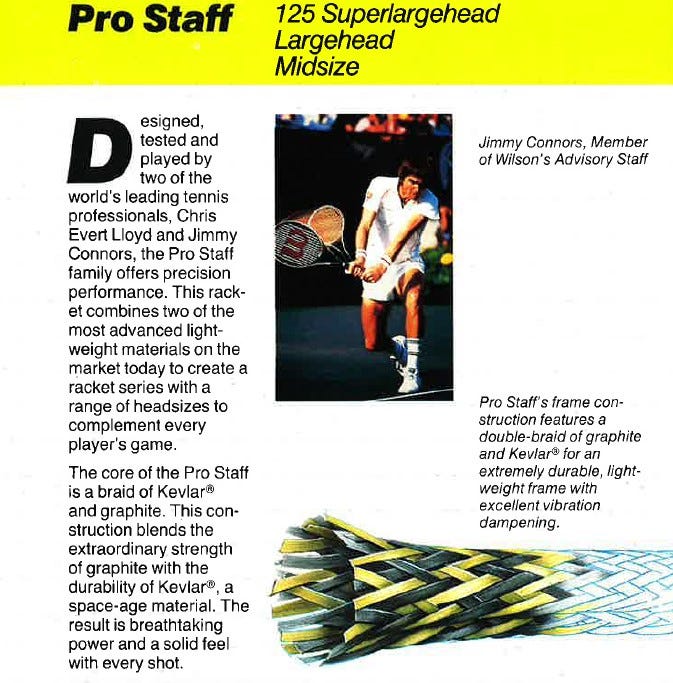 Space age, huh? Sounds like some high-tech stuff. To put it more simply, the original Pro Staffs had a 50/50 mix of carbon and aramid fibers. Other brands were already making rackets with carbon, but the addition of the aramid fibers both added weight and dampened feedback felt in other frames, giving the Pro Staff its unique feel. As the saying goes, "if it ain't broke, don't fix it." Well, we haven't. Today, Pro Staff is still made with this classic double braid.
HOW WE GOT HERE
Okay, time to answer the first question, which was, what were the previous versions of Pro Staff like? It took a lot of digging through old catalogs, but we've been able to track down every Pro Staff racket ever made!
BUT WAIT. It's important to understand a few things before you geek out in this Pro Staff Time Machine:
1.  HEAD SIZE: A tennis racket's head size is the circumference of the racket's hoop, typically measured in square inches in the US and square centimeters everywhere else. For example, the very first Pro Staff line in 1983 featured 125", 110", and 85" head sizes. We mention this because head size was used in both the 80's and again beginning in 2003 to differentiate the models.
2. STIFFNESS INDEX: In the late 80's and early 90's, Wilson's engineers developed a system known as the "SI SYSTEM" where "SI" standing for "Stiffness Index". This system is a measurement of a racket's flexibility and stability. The 90's graphic below paints a visual, but in a nutshell, the lower a tennis racket's SI, the more stiff, while the higher a racket's SI, the more flexible. Stiffer rackets produce more power while flexible rackets produce more control.
In Wilson's current racket lines, Ultra is the most stiff at a 3.9si while Clash rackets are the most flexible, topping out at 11.2si. For reference, the most popular Pro Staff's typically have measured around a 6.0si, which is considered an ideal blend of flexibility and stability. The new Pro Staff v13 line measures in at a 5.5si. All important to note as you look through every Pro Staff ever, as you'll notice SI was used to differentiate the models in the 90's and early 2000's.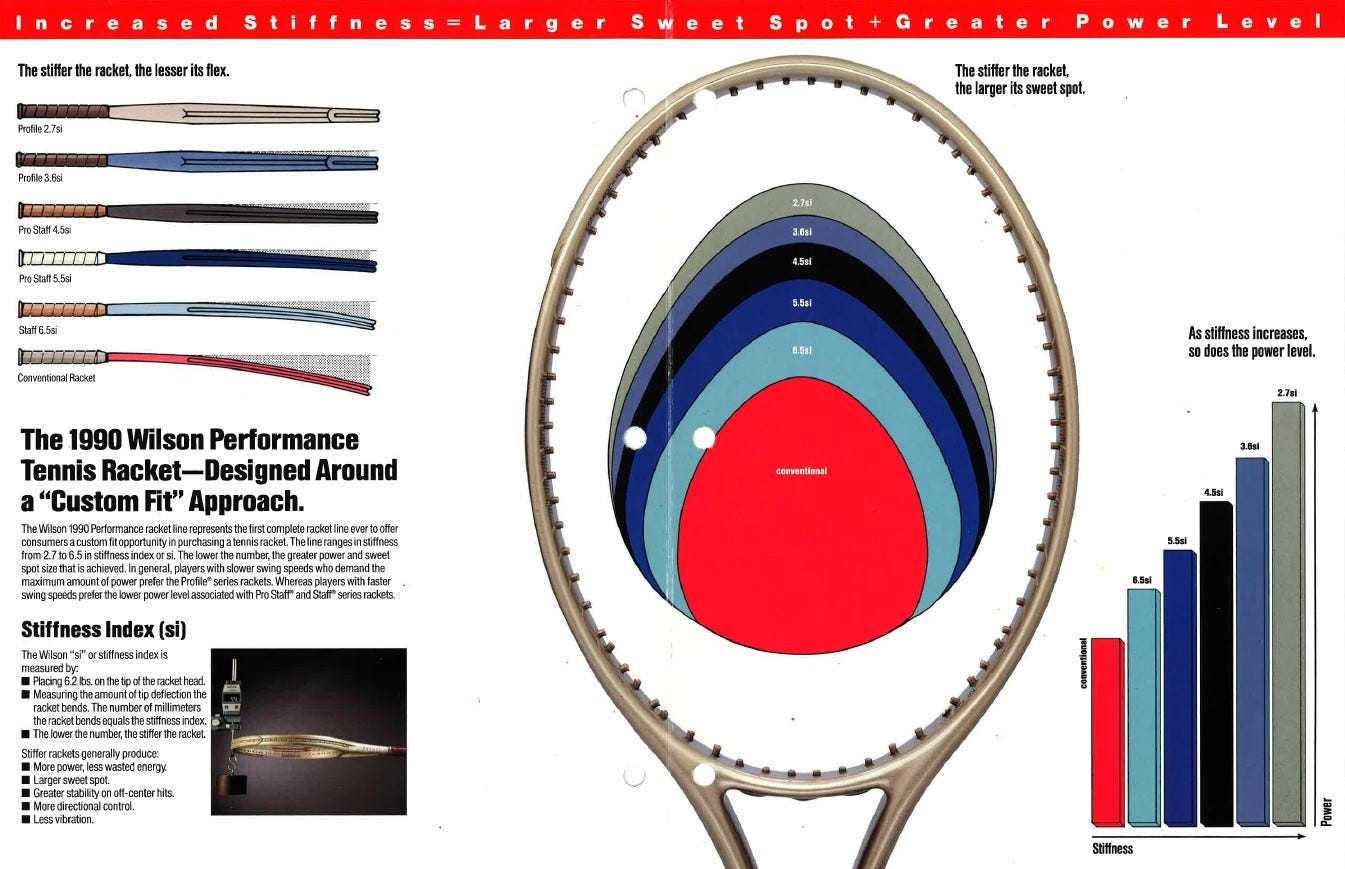 37 Years of Excellence
VERSION 1
1983 - 1989: Pro Staff (125", 110", 85")
Developed as one of the first carbon tennis rackets, the Pro Staff line was actually our third venture into the carbon tennis racket space, following our "Galaxy" and "Sting" racket lines. In fact, when the original Pro Staff started rolling out in 1983, we were selling wood, steel, and carbon tennis rackets. However, Pro Staff's unique carbon and aramid fibers doublebraid instantly garnered the attention of serious players due to its combination of power, feel, and control. It's safe to say that the success of this original Pro Staff line ensured carbon would be the premier material used in performance tennis rackets going forward.
Fun Fact: While many remember the Pro Staff 85" 6.0 as the original Pro Staff released, the first Pro Staff actually developed was the Pro Staff 110". The 85" and 125" were then developed from the 110". According to our catalogs, this version wasn't called the Pro Staff "Original" until 1990.
VERSION 2
1990: Pro Staff (4.5si, 5.5si, Original)
1991: Pro Staff 6.0si
With the massive success of the Wilson "Profile" racket in the late 80's, our engineers decided to bring the all-new "Dual Taper System" to the Pro Staff Franchise. The result was a few very powerful thick-beam Pro Staff frames made out of carbon and fiberglass.
Fun Fact:This was the first time we started using "Stiffness Index" to differentiate our Pro Staff models. Scroll up to read up on "SI" if you haven't already…it's a system our engineers still use to this day.
VERSION 3
1992:  Pro Staff Classic (6.1si)
1993: Pro Staff Classic (7.5si)
1994: Pro Staff Classic (4.2si), Pro Staff Tour Classic (6.6si), Pro Staff Lite (5.8si)
1995: Pro Staff Lite (6.8si, 7.0si)
1996 - 1997: Pro Staff Stretch (5.9si, 6.1si), Pro Staff Lite 6.9si
1998: Pro Staff EB Stretch (4.7si, 5.7si), Pro Staff EB (6.7si)
While many of these models are carry-overs or evolutions of models launched in 1990, the Pro Staff Classic was one that gained some serious traction. Today, the Pro Staff Classic is known by many as the Pro Staff Six.One.
Fun Fact: While many remember the 1991 US Open for Jimmy Connor's historic run to the semifinals at age 39, it was Wilson Advisory Staff member Stefan Edberg who used the Pro Staff Classic to win his first US Open title that year.
VERSION 4
1999: Hyper Pro Staff 5.0, Hyper Pro Staff 5.0 Stretch
2000-2001: Hyper Pro Staff 6.5, Pro Staff Titanium 6.6
One of our most famous racket technologies, the Hammer Series launched in 1999 using "Hyper Carbon" technology, which was designed to be four times stronger, stiffer, and 65% lighter than Titanium. While a few "Hyper Carbon" Pro Staffs were made, the original cdouble-braided models remained more popular.
Fun Fact:While Wilson typically show our pro athletes in marketing images, we have used an astronaut, a hooded figure, and even Teddy Roosevelt to market our rackets!
VERSION 4.5
2002 - 2003:  Hyper Pro Staff Surge (5.1si, 98"), Hyper Pro Staff (6.1si, 95"), Hyper Pro Staff Extreme (6.7si, 110"),  Hyper Pro Staff Zone (7.1si, 95")
Because Pro Staff players largely preferred the double braid of the original Pro Staff, the Hyper Pro Staff 6.1 was designed to be the first Pro Staff to use both the double braid AND Hyper Carbon technology. 
Fun Fact:The 2002 Hyper Pro Staff 6.1 was the last racket an up-and-coming Roger Federer would use before he was known as Grand Slam Champion. Also, what a ponytail.
VERSION  5
2003: Pro Staff Tour 90", Pro Staff Rok (93"), Pro Staff Torch (110")
Version 5's playability wasn't really all that different than the Hyper Pro Staff from the year before. Carrying on the traditional black/red/yellow color combination, Version 5 became much more famous because of the hand that held it.
Fun Fact: In 2003, Roger Federer won his first Grand Slam Title and first of eight Wimbledon titles, beating Andy Roddick in the semi on the way to the final. Federer was 8-0 against Roddick in grand slam match-ups.
VERSION 6:
2004 - 2006:  nCode nSix.One (95"), nCode nSix.One Tour (90")
Continuing the trend of innovating every couple of years, our nCode line included two Pro Staffs; most notably the third edition of the Pro Staff Six.One.Wilson's nSix-One 95 racquet made use of nano-sized silicone oxide crystals to create a denser frame construction at the molecular level. The result was a significant increase in strength, stability, resiliency and power.
Fun Fact:Roger would go on to win 7 grand slam titles with the nCode series, the most with any one racket in his career. Runner-up racket was the (K) Factor with 6 grand slam singles titles.
VERSION 7:
2007 – 2009: (K) Factor Six.One Tour (90", 95"), (K) Pro Staff 88 (6.0si)
Continuing the trend of making the overall makeup of our tennis rackets "stronger", (K) Factor technology was designed to bondCarbon Black, graphite and SiO2 together at the nano level to create "Karophite Black". This "K Factor" produced a stronger, denser frame layup.
Fun Fact:Yes, Roger Federer won plenty of slams with the (K) Factor Pro Staff. But many will remember this racket as the one that Argentina's Juan Martin del Potro used to beat Federer in the final of the 2009 US Open.
VERSION 8:
2010-2012: BLX Pro Staff Six.One (90", 95", 100"); BLX Six.One Tour; Six.One 95 BLX (different than BLX Pro Staff Six.One 95)
2013: Pro Staff 90, 95, 100L (Amplifeel)
The BLX frames we launched back in 2012 were our first using a new racket material: basalt. This new material was used to reduce the amount of racket vibration felt at impact. BLX technology evolved into "Amplifeel" technology, which was adding the vibration-reducing effect of basalt to the racket handle. A year after the BLX Pro Staffs launched, a version with the Amplifeel handle was introduced with an almost identical design.
Fun Fact:While we no longer use Basalt in our Pro Staff frames, we are still using a braid of carbon and Basalt in our Blade frames to provide as much feel as possible for the competitive players that rely on feedback from the ball to feel confident going for their shots.  
VERSION 9
2014: 95S, 100LS
Three words: Spin Effect Technology. This was a string-bed innovation used across our racket franchises. By using fewer cross strings than main strings, we were able to create a racket that naturally increased spin without players having to change their swing. Also worth noting was the first (and only) 100-square-inch Pro Staff in the 100LS.
Fun Fact: In 2004, Wilson Advisory Staff member Grigor Dimitrov was the first to play the Spin-Effect Pro Staff on Tour. Grigor had one of the best years of his career, winning 3 titles and making the semi-finals at Wimbledon after beating Andy Murray in the quarters.
VERSION 10
2014: RF97 Autograph, 97, 95S, 97LS
2015: Pro Staff 97ULS
Two very notable additions with Version 10. First, the increase in the Pro Staff's head size. Having been traditionally a 90" or 95", Version 10 of Pro Staff featured mostly 97-square-inch models. Second, the introduction of the RF97 Signature Model.
Fun Fact:Roger Federer has used 3 different head sizes throughout his professional career, starting with he 85", then 90", and then began using the 97" in 2014.
VERSION 11
2016: RF97 Autograph, 97, 97S, 97LS
2017: Pro Staff Countervail (Black)
While we could say many things about Version 11, perhaps most notable is the all-black, minimalistic design featured on the RF97 Autograph model. This "tuxedo-style" cosmetic, co-designed with Roger Federer, has inspired every Wilson racket design since. Also worth noting was the introduction of Countervail technology, designed to reduce the amount of energy sent from the ball up the racket into a player's arm, minimizing fatigue and allowing players to play better, longer.
Fun Fact:While there has been much talk since Roger Federer started winning slams again about increasing his racket's head size and how it's improved his backhand, he actually switched to the 97" back in 2014. However, he didn't win his first slam with a 97" until the 2017 Australian Open.
VERSION 12
2018 – 2020: RF97 Autograph, 97 Countervail, 97L, 97UL
Piggybacking on the success of Version 11, v12 introduced a timeless black and white design to the minimalistic design used on v11 that Pro Staff fans loved.
Fun Fact: In July 2018, Wilson worked with former Beastie Boys producer "Money Mark" to create a music track using "tennis sounds" performed by Roger Federer. C'mon, you know you want to watch it.
VERSION 13
2020: RF97 Autograph, 97, 97L, 97UL
The all-new Pro Staff v13 line brings together modern technology with a heritage-inspired design paying homage to the original 1983 Pro Staff. For v13, our R&D team arranged the racket's famous double braid at all-new 45-degree angles. Called "Braid 45", this strategic placement of the braid allows the frame to "breathe" more upon impact, increasing dwell time while maintaining the stability responsible for the classic Pro Staff feel. Version 13 also features a denser string bed to increase precision and a more rounded end cap for added comfort..
Fun Fact: The red-and-yellow pinstripes found on the Pro Staff Original that inspired v13's design was sold in our catalog from 1983 up until 2004. There have been limited edition racket releases that featured the pinstripes over the years, but v13 is the first time the pinstripes have again been used on the in-line Pro Staff franchise models.