THE HISTORY OF THE WILSON PRO STAFF TENNIS RACKET
News
AN EVOLUTION OF THE BRAND'S MOST ICONIC RACKET FAMILY
37 YEARS OF PRO STAFF
There's no question about it: the Pro Staff is our most iconic tennis racket franchise. Having been around for 37 years, it's best known for its classic double braid of carbon and aramid fibers (commonly known as graphite/Kevlar®), and of course the many greats who use(d) it: Chris Evert, Stefan Edberg, Jim Courier, Steffi Graf, Pete Sampras, Roger Federer. All totaled, 117 grand slam titles have been won with Pro Staff.
With the 13th version of Pro Staff launching, we felt it was only fitting to go digging into the archives to answer the question: what were the other 12 Pro Staffs like, and why do we keep making them?
LET'S ANSWER THE SECOND QUESTION FIRST.
It's safe to say that if you make something for 37 years, people must like it. And more importantly, you build a following. Pro Staff players are perhaps the most loyal when it comes to their choice of tennis racket. It's nearly impossible to convince them to play with anything else. Whether they played the original Pro Staff growing up, or they're just a huge fan of Roger Federer, you can forget putting any other racket in their hands. They can't get enough of that classic "Pro Staff feel".
BUT WHAT IS IT THAT MAKES PRO STAFF FEEL UNLIKE ANYTHING ELSE?
The answer is what's inside: a classic braid of two materials: carbon and aramid fibers. The original description of this braid, that first appeared in a 1983 Wilson catalog, still holds true:
The core of the Pro Staff is a braid of Kevlar® and graphite. This construction blends the extraordinary strength of graphite with the durability of Kevlar®, a space-age material. The result is a breathtaking power and a solid feel with every shot.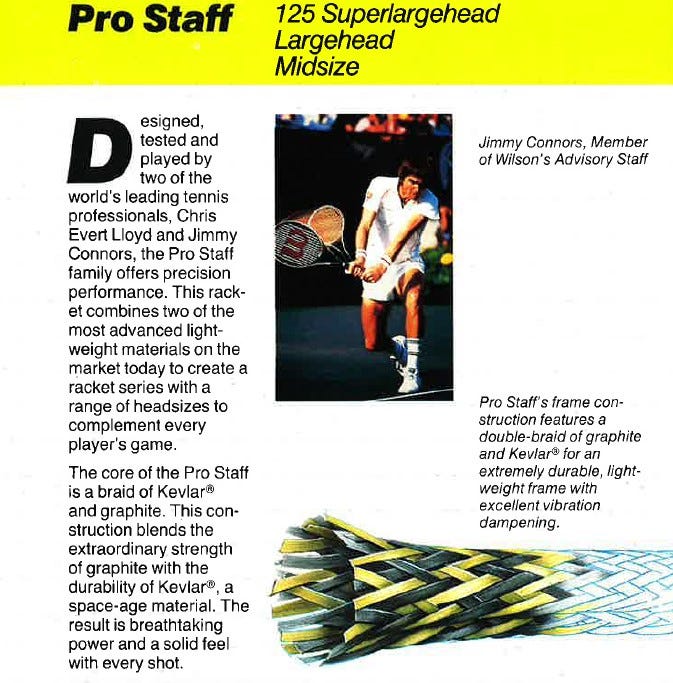 Space age, huh? Sounds like some high-tech stuff. To put it more simply, the original Pro Staffs had a 50/50 mix of carbon and aramid fibers. Other brands were already making rackets with carbon, but the addition of the aramid fibers both added weight and dampened feedback felt in other frames, giving the Pro Staff its unique feel. As the saying goes, "if it ain't broke, don't fix it." Well, we haven't. Today, Pro Staff is still made with this classic double braid.
HOW WE GOT HERE
Okay, time to answer the first question, which was, what were the previous versions of Pro Staff like? It took a lot of digging through old catalogs, but we've been able to track down every Pro Staff racket ever made!
BUT WAIT. It's important to understand a few things before you geek out in this Pro Staff Time Machine:
1.  HEAD SIZE: A tennis racket's head size is the circumference of the racket's hoop, typically measured in square inches in the US and square centimeters everywhere else. For example, the very first Pro Staff line in 1983 featured 125", 110", and 85" head sizes. We mention this because head size was used in both the 80's and again beginning in 2003 to differentiate the models.
2. STIFFNESS INDEX: In the late 80's and early 90's, Wilson's engineers developed a system known as the "SI SYSTEM" where "SI" standing for "Stiffness Index". This system is a measurement of a racket's flexibility and stability. The 90's graphic below paints a visual, but in a nutshell, the lower a tennis racket's SI, the more stiff, while the higher a racket's SI, the more flexible. Stiffer rackets produce more power while flexible rackets produce more control.
In Wilson's current racket lines, Ultra is the most stiff at a 3.9si while Clash rackets are the most flexible, topping out at 11.2si. For reference, the most popular Pro Staff's typically have measured around a 6.0si, which is considered an ideal blend of flexibility and stability. The new Pro Staff v13 line measures in at a 5.5si. All important to note as you look through every Pro Staff ever, as you'll notice SI was used to differentiate the models in the 90's and early 2000's.