Ultra 108 V3 Tennis Racket Frame
The Ultra 108 v3 blends a lightweight construction with all-new PowerProfile geometry to create a frame that engages a variety of tennis players. The extra surface area afforded by its generous head size not only provides added forgiveness, it delivers an added dose of power with the longer string bed. Inverted Power Rib throat geometry, Sweet Spot Channel and Integrated Perimeter Weighting System all comprise the new PowerProfile geometry and work to maximize easy power and torsional stability within a super lightweight, arm-friendly layup. Developing juniors, doubles players and anyone experiencing arm discomfort can find significant value in the Ultra 108 v3.
• Most powerful and forgiving frame in Ultra series
• Integrated Perimeter Weighting System increases frame volume at 3 & 9 for added stability without compressing sweet spot
• Sweet Spot Channel features cavity on inside of frame to extend cross strings and increase grommet movement for more power
• Inverted Power Rib throat geometry optimizes torsional stability for reduced frame twisting
• Crush Zone grommet system compresses at impact to boost power and ball dwell time on strings
• High Performance Carbon Fiber composition contributes impressive frame stability for explosive power
• Power Taper increases cross section mass for more responsive power
• Uncontaminated design flashes modern aesthetic with clean lines, bold color accents and a smooth gloss finish
• No cover


Age Group : Adult
Cross Section : 26-27.5-25 DTB
Head Size : 108 sq in / 697 sq cm
Length : 27.25 in / 69.22 cm
Series : Ultra
String Pattern : 16 x 18
Unstrung Balance : 3 pts HL / 33.5 cm
Unstrung Weight : 9.5 oz / 270 g
POWER PROFILE
PowerProfile geometry is the key technology in the new Ultra line. This new geometry encompasses three geometrical enhancements designed for more comfort and stability by generating even more easy power off the strings.
These three geometrical enhancements include:
1.) Integrated PWS
2.) Sweet Spot Channel
3.) Inverted Power Rib.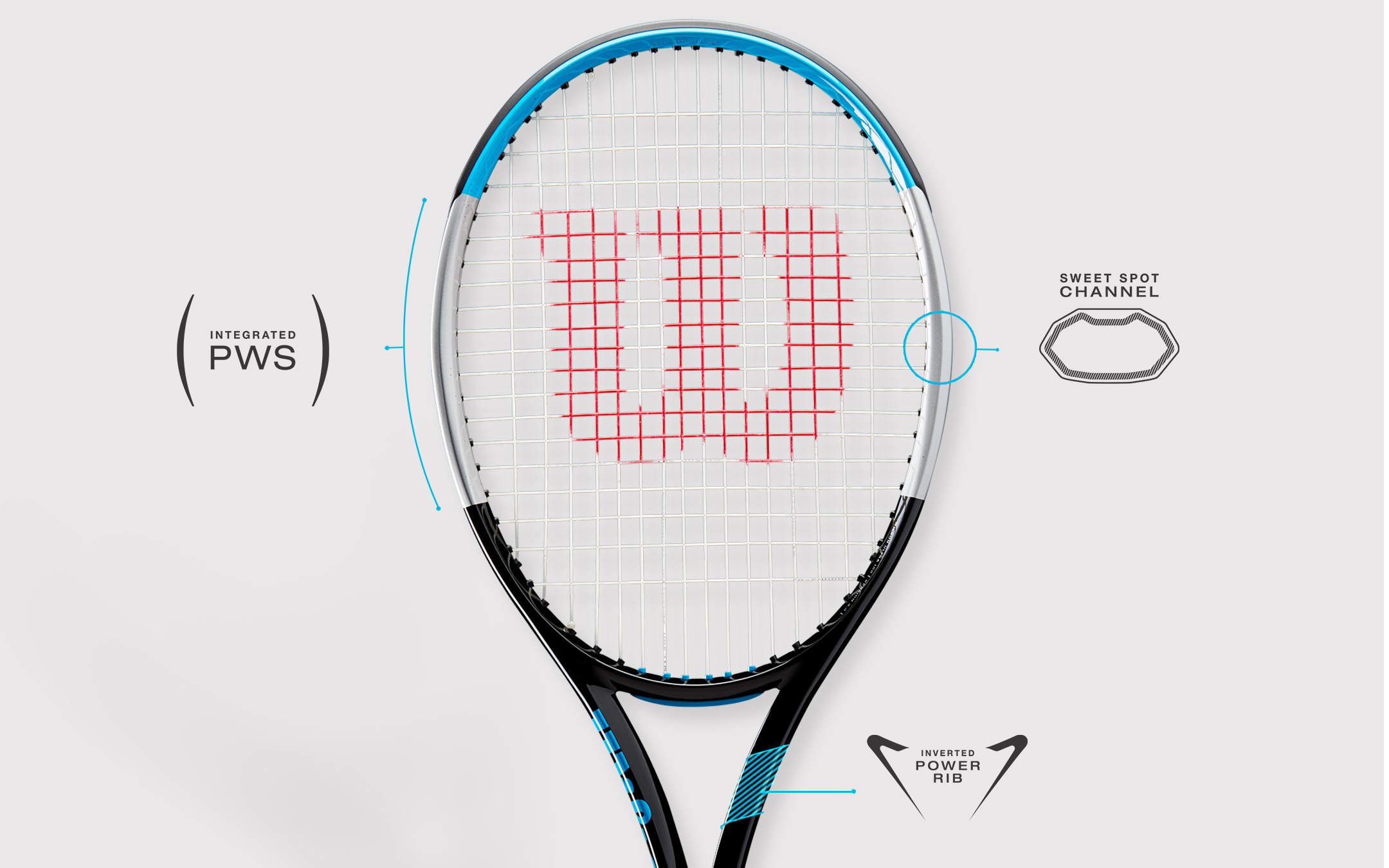 INTEGRATED PWS
Takes the volume of the current PWS (perimeter Weighting System) and blends it over a larger area to open up the string-bed, allowing for more power off the strings whilst maintaining stability
SWEET SPOT CHANNEL
The Sweet Spot Channel extends the cross strings in the sweet spot by 3.5mm for more easy power off the strings.
INVERTED POWER RIB
Inverted Power Rib leads to increase torsional stability and structural integrity for more easy power.
Stringing options
Recommendation
Choose your own
Ultra 108 V3 Tennis Racket Frame
Ultra 108 V3 Tennis Racket Frame
Keep your racket Protected
Generic Racket Cover
$19.95