Designing the SW102 Autograph Racket
BE SEEN. BE HEARD.
DESIGNING THE SW102 AUTOGRAPH RACKET
Over the course of her career, tennis legend Serena Williams has made her presence known. After all, you don't win 23 Grand Slam singles titles and spend a total of 319 weeks at No. 1 without the world noticing. Since 1995, Serena has wowed not only the tennis world, but the sports world as a whole with her undeniable talent, her admirable grit, her enviable determination and her pure dominance, both on and off the court.
KEEP THE POWER, ADD THE CONTROL
As she entered her astonishing 25th year of professional tennis, showing no signs of slowing down, Serena recognized that is was time for a racket upgrade. "I love my previous Blade tennis racket, and it's been a huge part of my game, but I knew I needed to make adjustment," said Serena. "A tennis racket is such a sensitive thing. I talked with Wilson about wanting more control and what that could look like, and importantly, feel like. So we got to work!"
Who better to take on this difficult task than Advanced Innovation and Player Insight Manager (and all-around tennis racket guru), Ron Rocchi. Ron, who has designed Serena's performance tennis rackets since she turned pro in 1995, was up for the challenge. "Serena is undeniably the best women's tennis player in the world," he noted. "She has always had aggressive goals for her career, and therefore, ever-willing to try new technologies that can complement her on court and give her an edge."
Serena and Wilson LABS co-developed and play-tested nine different 102-inch prototypes before ultimately landing on the final design for the Blade SW102 Autograph racket. "While the process was long, we ultimately designed exactly what I need for my game," shared Serena. "I've had this new racket in my hands for most of this year, and it just feels right."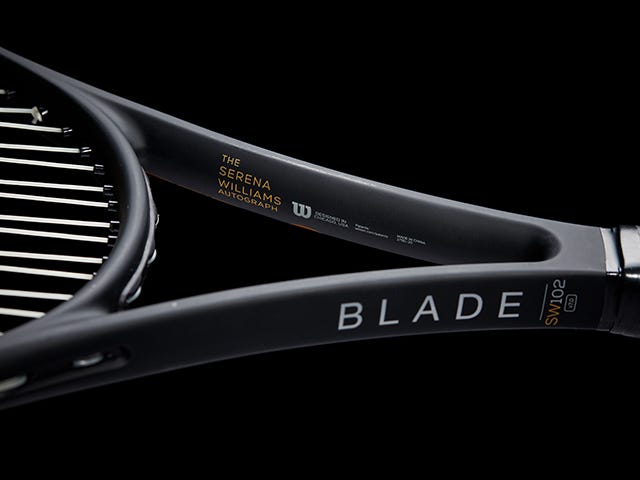 WHAT'S CHANGED?
The new Blade SW102 Autograph racket is two inches smaller in head size than her previous 104 model. The decreased head size allowed Wilson LABS engineers to modify the racket's flex points along its string bed and frame, adding the level of control Serena was looking for without impacting the power of her play. "We took the same stiffness and feel she loved in her previous racket and re-engineered it into a smaller geometry," explained Ron. "With a smaller frame, you naturally add control."
A THING OF BEAUTY
Just like its namesake, the Blade SW102 Autograph racket is a thing of beauty that makes its presence known on court. The all-new aesthetic features the signature Wilson black silhouette with eye-popping gold accents (Serena's favorite color) at the top of the hoop and logo, as well as in the subtle yet meaningful details that can be seen throughout the frame.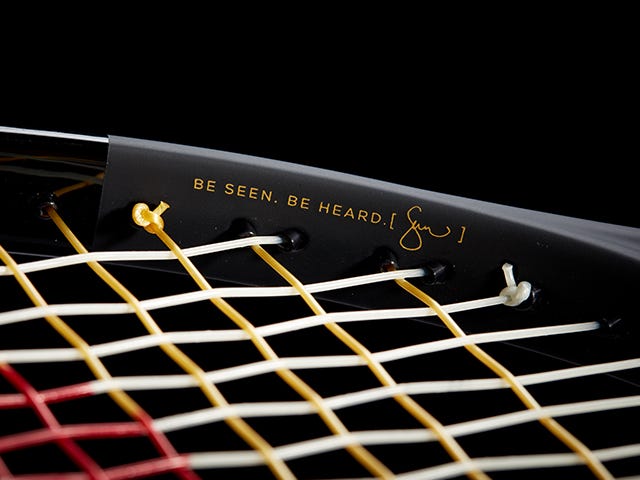 BE SEEN. BE HEARD.
This racket literally speaks for itself, stating 'BE SEEN. BE HEARD.' a favorite Serena saying inside the frame, as well as a bold, meaningful statement inside the throat of the racket. The statement, which is sealed with Serena's iconic signature, acts as an inspiration to women everywhere. It reads:
This is a celebration of one woman – and every woman; on and off the court. It's about the greatest-of-all-time record breaker – and all breakers of chains, boundaries, limitations, obstacles, and everything that stands in the way of fierce women bent on a mission to meet their highest aspirations. This is for all indomitable mothers, daughters and sisters, resilient business women and entrepreneurs, outsiders and underdogs, little girls with crazy dreams and unflinching women of color. This is about women who defy odds, about overcomers from humble beginnings. Women who work hard for everything they get, women who give no less than 100%. This is for women who believe in something. Strong women who believe in themselves or those who won't stop until they do. This is for women who turn fear into courage and doubt into confidence.
Pros often customize the racket they use. Racket specifications on endorsed consumer models may vary from the models used by Pros for match-play.