BLADE 104 V7 Tennis racket Frame
Equipped with a larger sweet spot and an extended length, the Blade 104 V7.0 impressively covers the court for its users. FeelFlex technology throughout the frame consists of strategically placed carbon mapping at specific points for added racket flexibility and stability to better complement the modern, vertical swing path. This racket blends its unique specs with this new technology for an effective mix of lightweight power and connected-to-the-ball feel that allows players to hit with aggression and confidence.
Larger head size for enhanced sweet spot
FeelFlex features proprietary carbon mapping strategically placed throughout hoop for additional flexibility and better connected-to-the-ball feel
Clean tri-colored design with lime green, black and silver elastic paint
Top Grip Taper provides better feel for top-hand grip placement • Reduced spec variance (+/- 5.5 g) for added consistency from frame to frame
Braided Graphite construction delivers a pure, classic feel
Parallel Drilling provides a consistent, more forgiving string bed response
Stringing instructions
Comes unstrung unless you 'add strings to this racket'
No cover
Age Group : Adult
Series : Blade
Collection : Feel
Cross Section : 22 Flat Beam
Head Size : 104 sq in / 671 sq cm
Length : 27.5 in / 69.85 cm
String Pattern : 16x19
Unstrung Balance : 9 pts HL / 32 cm
Unstrung Weight : 290 g
ABOUT BLADE
Designed for today's big-hitting, aggressive game, the Blade serves as the top-played franchise on Tour for a reason: commanding feel. Thinner, more flexible beams provide a strong connection and feel for the ball, inspiring competitive players to attack their opposition and control points. Equipped with a variety of string patterns, head sizes and swing weights, this versatile lineup boasts a sharp design for the next generation of hard-hitting players.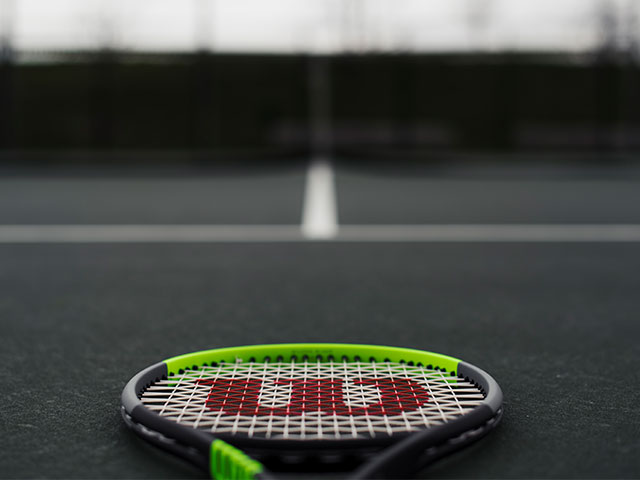 FEELFLEX
An evolution of Clash's revolutionary FreeFlex technology, FeelFlex produces a more connected-to-the-ball feel while better complementing the modern, vertical swing path. Proprietary carbon mapping strategically placed throughout the frame provides additional stability and flexibility through the swing, while maintaining the feel Blade players know and love.
DESIGN DNA
The game has never seen racket designs like this before – ones that focus only on the essentials and strips away all the unnecessary elements. What remains are timeless, uncontaminated designs, meticulous in detail and bold in their beauty. They create rackets that want to be held and a psychological edge for the player bold enough to pick one up.
BRAIDED GRAPHITE & BASALT
Braided Graphite + Basalt is an elastic and reactive material combination that that improves the flex of a racket. This evolution of Wilson's BLX technology increases the ball's contact with the strings to provide enhanced feel and greater control.
PARALLEL DRILLING
Provides a consistent, more forgiving string bed response while dramatically increasing the sweet spot.
WILSON DEMO PROGRAM
1. Choose your weapon
2. Hit around for 7 days
3. Complete the demo return process
4. Receive a $50 coupon code for au.wilson.com

DEMO BLADE 104 v7 NOW
Stringing options
Recommendation
Choose your own
BLADE 104 V7 Tennis racket Frame
BLADE 104 V7 Tennis racket Frame
Keep your racket Protected
Generic Racket Cover
$14.95